Friend, we are waiting for you!
Arrive to the Syöte and throw out your everyday chores. Let the magic of forests take over your mind and let the beautiful nature gives you strength. In Syöte, you are here and you are in no hurry for anything.
With us you will enjoy the peace and nature of nature in all seasons. The southernmost fell area in Finland is surprisingly close. On this page you will find information on how to get to the Syöte and navigate in the Syöte region.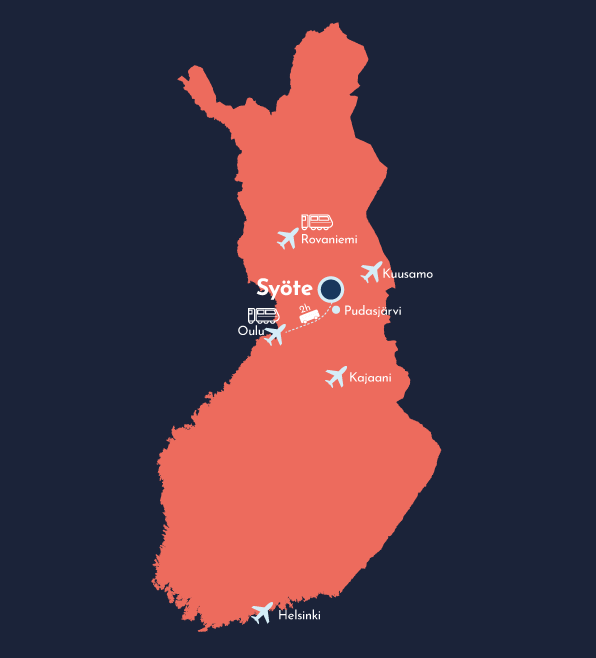 Plan your trip to Syöte
Perille.fi – Find the best trip quickly. Purchase train, flight & bus tickets and compare timetables.
By plane
Syöte is accessible via airports of Oulu, Rovaniemi Kuusamo and Kajaani. The flight from Helsinki to Oulu takes about an hour and the transfer from the airport to Syöte takes 1.5–2 hours. The travel time from Rovaniemi to Syöte is about 2 hours and from Kuusamo about 1.5 hours.
Schedules and timetables: www.finnair.com & www.norwegian.com.
Public transport
The nearest train station is in Oulu, from where you can continue your journey by bus, rental car, charter bus (for groups) or taxi.
The bus between Oulu and Kuusamo stops in Pudasjärvi at the junction of Syöte and at the Poijula stop. Further transport can be arranged in advance with local entrepreneurs.
By car
The easiest way from south to Syöte by car is to drive via Oulu. Syöte is about 145 kilometres from Oulu. Take the Highway 20 to Pudasjärvi, and then continue towards Kuusamo. Signposts will guide you flexibly to your destination.
By bus
Car rental service
You can catch a flight or a train to Oulu and continue from Oulu to Syöte by rental car. It takes only about two hours to reach the Syöte fell area.
For more information and bookings, please contact Syöte Booking Centre, tel. +358 8 823 400 or keskusvaraamo@syote.fi
Taxi services
From Syöte taxi service and local operators you can order transfers from/to the airports (Oulu, Kuusamo, Rovaniemi) as well as agreed.
For more information and bookings, please contact Syöte Booking Centre, tel. +358 8 823 400 or keskusvaraamo@syote.fi