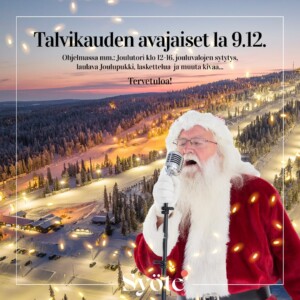 Come and enjoy a joyful time with family and friends at the Syöte Christmas Market!
We offer a warm atmosphere, delicious treats, and cheerful encounters, and even the singing Santa Claus himself will be there to entertain you! You are also welcome to sell your own products, and the selling spots are free of charge.
Syöte Christmas Market on Saturday, December 9th, from 12:00 to 16:00 in LumiAreena.
Event organized by: Syöte Events Association
Contact person: Minna Puolakka, phone +358 – 44 – 527 8498